The XRP price has dipped by 0.5% in the past 24 hours, taking it below its all-important $0.50 support level as the market remains largely flat today.
At $0.493170, the altcoin is up by 1.4% in the last seven days, but down by 2% in the past month, although it remains up by 45% since the beginning of the year.
And given that XRP's declines have been less to do with its fundamentals and more to do with market uncertainty, there's little doubt that it will soon recover, and that it's recent dips represent an excellent buying opportunity.
XRP Price Prediction as $400 Million Trading Volume Sends XRP Below $0.50 Support – Dip Buying Opportunity?
XRP's indicators have been in a subdued condition for a few weeks now, making a recovery rally increasingly overdue.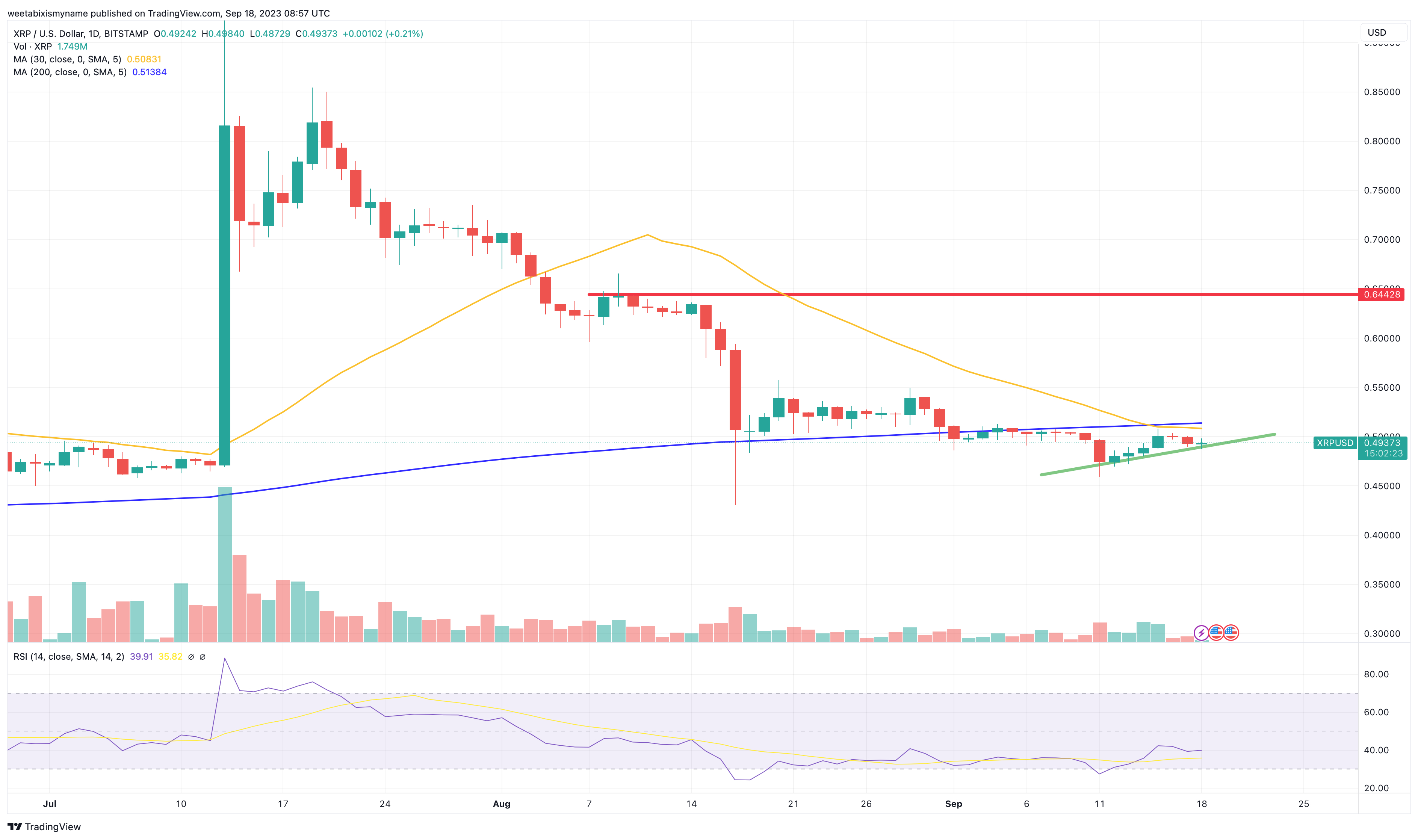 Most notably, the coin's relative strength index (purple) has remained in and around the 30 level since the middle of August, meaning it has been heavily oversold and is now considerably undervalued relative to its recent price levels (and not to mention its 'true' value).
Another sign that XRP has hit a bottom is the fact that its 30-day moving average (yellow) fell below the longer term 200-day average (blue) over the weekend.
Again, this means that the altcoin has been heavily oversold, with its recent losses providing investors with a discount on what is likely to be a fair price.
XRP's moves today come as its 24-hour trading volume inches up to $400 million, suggesting a slight increase in market activity and trading interest.
However, much of this interest may reside more with selling that buying, at least at the moment, with data showing that some whales have been transferring large sums of XRP to exchanges.
But at a certain point, XRP will reverse its trajectory and become more positive, given its strong position – and the strong position of Ripple – within crypto.
Indeed, Ripple has spent the past couple of months since July (when it received a largely positive ruling in its case with the SEC) gradually expanding its business, putting itself and XRP in a stronger position.
Most recently, it announced the acquisition of crypto-focused infrastructure firm Fortress Trust, a purchase which will better enable it to expand its business beyond cross-border payments.
This follows its May acquisition of crypto custody provider Metaco, another sign that it plans to grow more aggressively in the wake of its largely resolved legal battle with the SEC.
For this reason, XRP can be expected to return to $0.60 in the next one or two months, before potentially reaching $0.70 or higher by the end of the year.
Beating The Market With Presale Tokens
XRP's recovery may be pretty gradual though, meaning that anyone hoping for sudden above-average gains may have to look elsewhere.
Fortunately, there's no shortage of high-potential new altcoins in the market, with a number of presale tokens looking especially promising right now.
Possibly the best of example of this is Wall Street Memes (WSM), an ERC-20 meme token that has raised in excess of $25 million since beginning its presale a couple of months ago.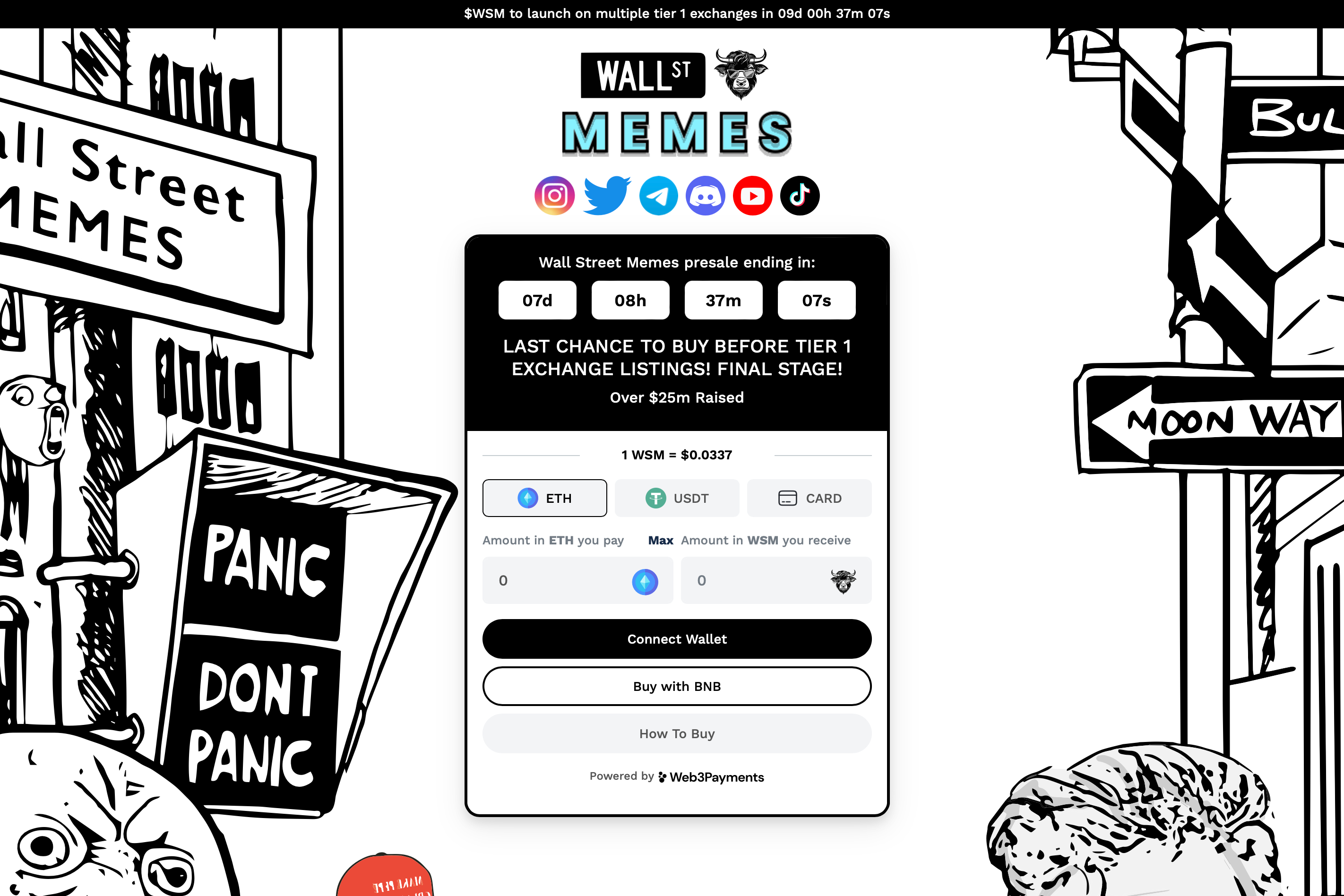 Wall Street Memes has emerged out of the meme stocks movement, which was infamously responsible for the 2021 GameStop and AMC rallies.
This link with the online meme stocks community has provided WSM with a readymade following, which has clearly invested in its presale and which is also ready to support the token once it lists on exchanges in a week. 
Indeed, the coin's Twitter profile now has more than 274,000 followers, a number which far exceeds anything you see with any other meme tokens launched this year.
Given the size of this community, WSM is likely to do very well once it lists on exchanges, with participation likely to be motivated further by tbe coin's decentralized tokenomics, in that 50% of its max supply is going to the presale and 30% to community rewards.
New buyers can get involved in the sale by visiting the official Wall Street Memes website, where 1 WSM costs $0.0337.
WSM is due to list on a number of Tier 1 exchanges after the end of its presale, so early investors may be in line to make a substantial profit soon enough.
Visit Wall Street Memes Now
Disclaimer: Crypto is a high-risk asset class. This article is provided for informational purposes and does not constitute investment advice. You could lose all of your capital.