New York Jets fans hoping that this latest performance from Zach Wilson, which came amid a 16-12 loss to the Las Vegas Raiders on Sunday night, would lead head coach Robert Saleh to bench him won't have their wishes fulfilled.
At least that's what it appeared to sound like again from Saleh on Monday when addressing the second straight loss for the club that moves them to 4-5 on the season.
Wilson was 23 of 39 for 263 yards, which is certainly not a bad performance at all. But with no offensive touchdowns – one was called back on a holding penalty when Breece Hall rushed in from inside the Raiders' 5-yard line – and a crucial interception that came late in the game, Wilson once again didn't do enough to push his team to victory.
CLICK HERE FOR MORE SPORTS COVERAGE ON FOXNEWS.COM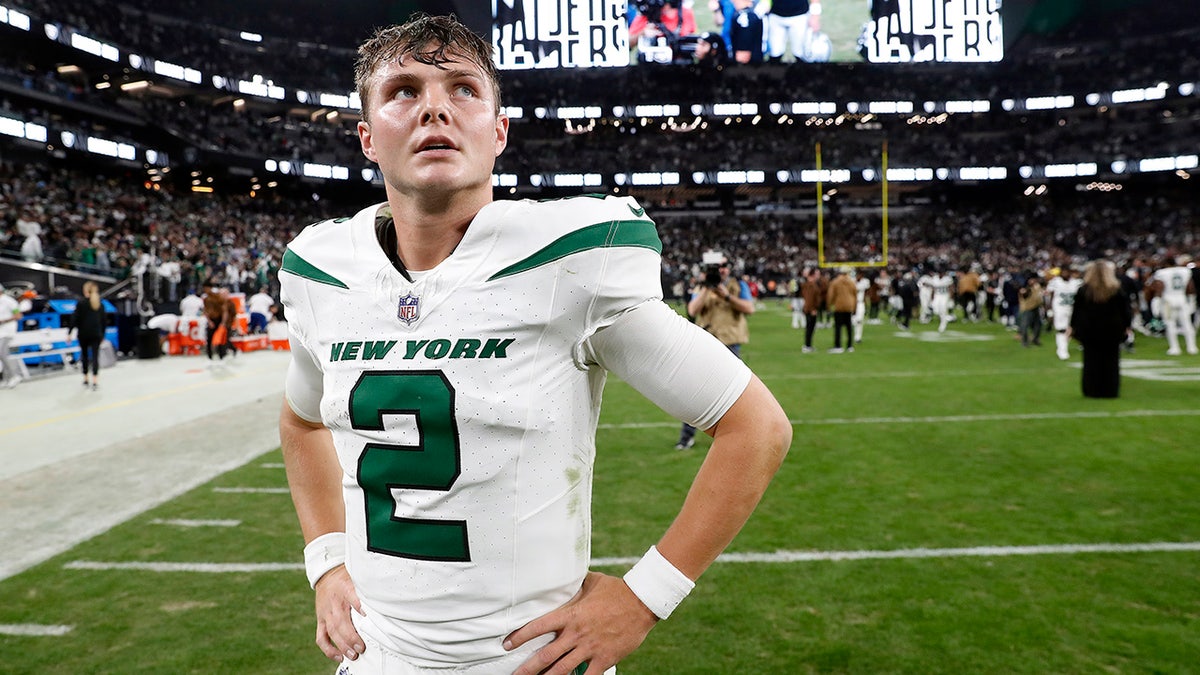 Saleh sees differently.
"I get it, there's a yearning for more," Saleh said to reporters. "But I feel like he played a good game yesterday. He'll admit that he'd want that interception back. But it is hard to make changes just to make changes, just to pacify something, especially when someone is not deserving. If he was deserving of it, I got you. Let's change something."
The interception that Saleh referred to came on the Jets' second-to-last drive, one that looked very promising late in the game with Gang Green needing a touchdown to retake the lead that they held for most of the contest. 
RAIDERS DOWN JETS BEHIND KEY INTERCEPTION TO PICK UP BACK-TO-BACK WINS
On 2nd-and-8 on the Raiders' 20-yard line, Wilson's eyes locked on receiver Allen Lazard near the first-down marker, and he tried to thread the needle to pick up a new set of downs.
Instead, veteran linebacker Robert Spillane saw Wilson the whole way, jumping the route and intercepting the pass. He took it back 25 yards with 1 minute and 22 seconds left in the game.
Wilson would have another opportunity to pick up the win, but it needed a miracle from the football gods on a final-second Hail Mary. Garrett Wilson and Tyler Conklin got their hands on the ball, but it fell to the turf in the end.
The Jets have gone two games in a row without scoring a touchdown. And thanks to research done by the New York Post's Brian Costello, the Jets have scored 15 offensive touchdowns in their last 17 games, which would be a full season. Three of those touchdowns were against the Chicago Bears, who owned the worst record in the NFL last season.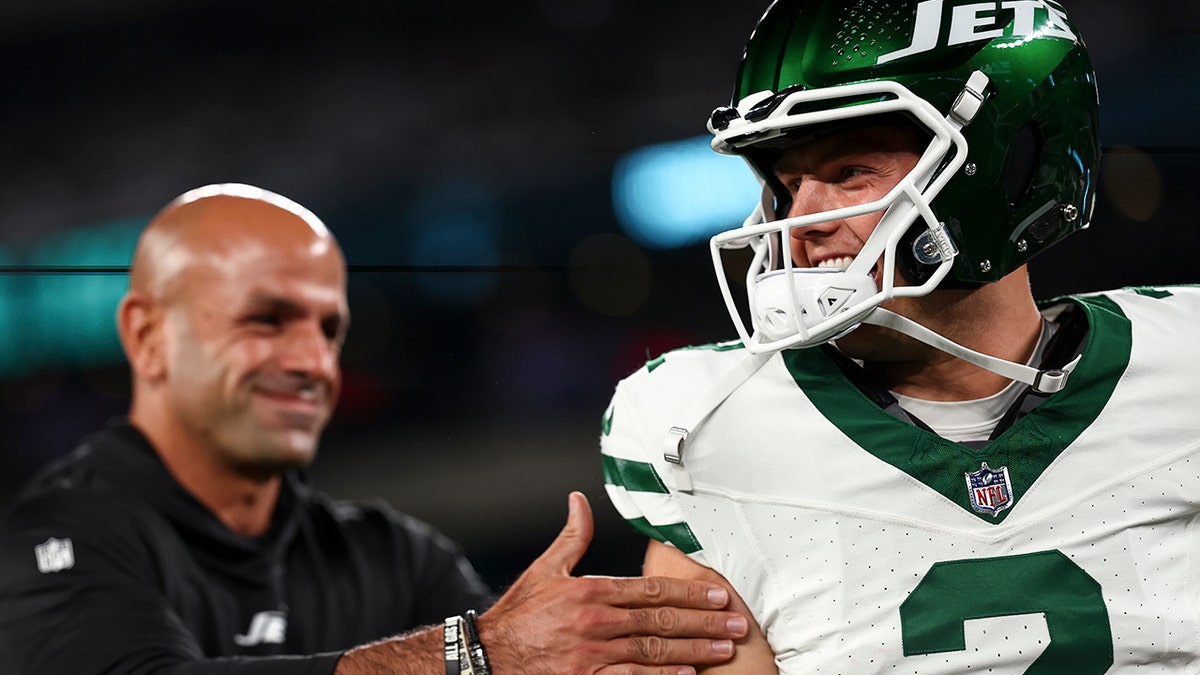 Wilson's only passing touchdown in the last five games came on a 50-yard catch-and-run by Hall against the New York Giants – a game the Jets were on the verge of losing before Big Blue's blunders led to a drive from Wilson that sent things to overtime. 
It's moments like that overtime-forcing drive when Wilson shows flashes of good quarterback play that's needed to win games. But the last time he put together a good touchdown drive was against the Kansas City Chiefs six games prior.
JETS' ROBERT SALEH STAMPS OUT 'CONSPIRACY THEORY' ABOUT ZACH WILSON AFTER LOSS
However, Saleh clearly views his quarterback situation as one that would be a change just to make a change, and that's something he doesn't feel he needs right now.
But with the Buffalo Bills and Miami Dolphins on the schedule for the next two games, Sunday night was viewed as a must-win by some to remain in playoff contention because, despite great defensive play, they can't score points on offense.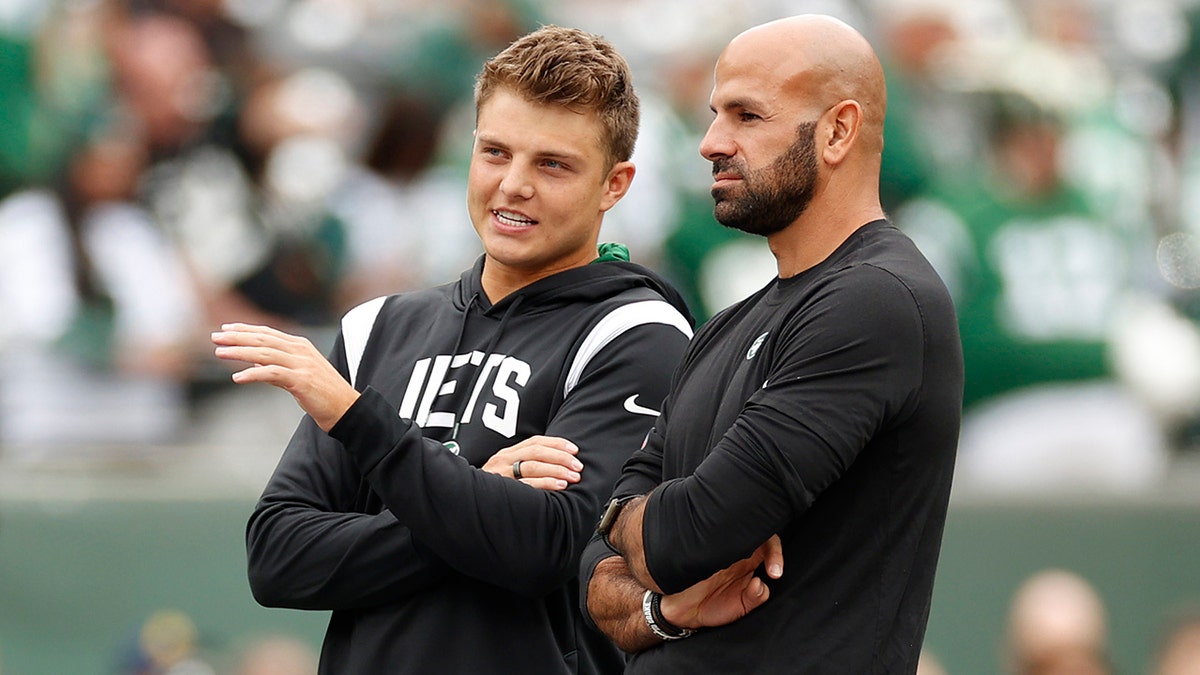 CLICK HERE TO GET THE FOX NEWS APP
So, heading into the rematch with Buffalo, Wilson's job appears safe for another week.