The cryptocurrency market is once again filled with dramatic twists and turns. While Bitcoin price faces headwinds, largely due to the US Securities and Exchange Commission's (SEC) recent decision to delay approvals for spot bitcoin exchange-traded fund (ETF) applications, there's a palpable buzz in the meme coin sector. 
Leading financial players, from BlackRock to VanEck, have been anxiously awaiting the SEC's green light for their ETF initiatives, which aim to simplify retail Bitcoin investments.
However, with the SEC leveraging its full 240-day review period, as highlighted in its latest Thursday filings, Bitcoin's price suffered, plummeting over 5.5% in just two days to rest below the $26K threshold. 
In stark contrast, as Bitcoin grapples with regulatory delays, meme coins, particularly the emerging Shiba V Pepe (SHEPE), are seeing a surge in investor interest. It raises the question: Could Wall Street Memes be the next crypto sensation?
Bitcoin Price Prediction 
Bitcoin's technical aspects are currently being analyzed, and it shows a bearish trend. This is especially true after breaking the significant support level of $25,900. 
At the moment, Bitcoin is moving towards the next critical support level at $25,400, which was previously its low on August 22. 
The likelihood of a continued decline is supported by a bearish engulfing candle on the four-hour chart, coupled with a bearish crossover below the 50-day exponential moving average. 
The Relative Strength Index (RSI) and the Moving Average Convergence Divergence (MACD) indicator are both in a sell zone, which reinforces the potential for ongoing bearish momentum.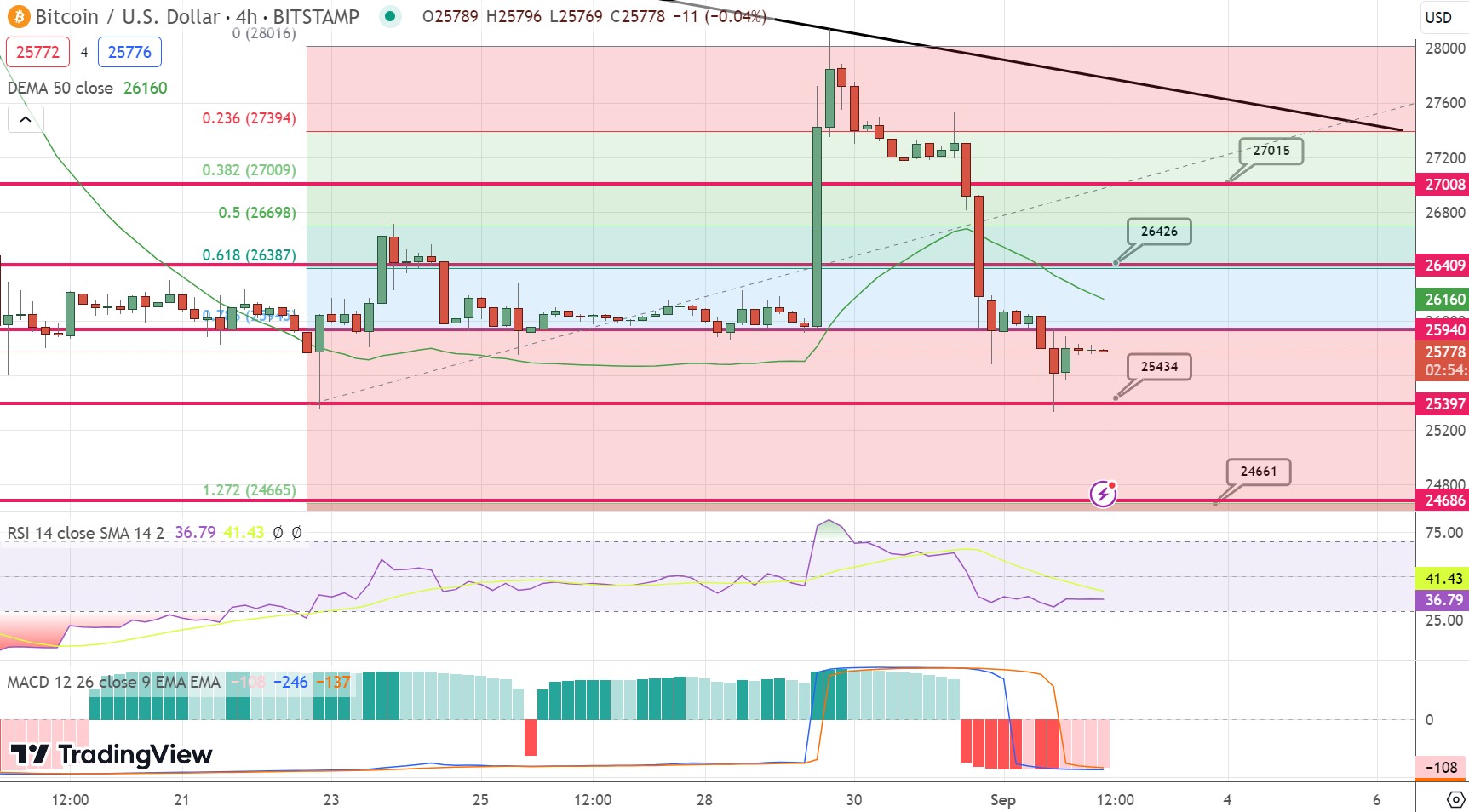 If Bitcoin manages to surpass the $25,400 mark, it can expect to find support around $24,600, with $24,150 serving as a strong foundation. 
However, the $25,900 level is expected to offer significant resistance on the upside. A bullish crossover beyond this could pave the way for a climb towards $26,400, and even potentially $27,000. 
In summary, the $25,400 price point is the key level to watch today, as it will likely determine the direction of Bitcoin.
Shiba V Pepe (SHEPE) in Highlights
There is one particular memecoin that has recently gained a lot of attention – the SHEPE coin. It is a combination of Shiba and Pepe coins, and represents a battle between the two communities, hence the name Shiba Vs Pepe. 
The coin was launched on Uniswap on August 29th, and within just four days, it has managed to rank 6th on the Hot Pairs List on DEXTools.
The SHEPE coin gained an astonishing 1943% in the first two days of its launch. However, soon after, the coin experienced a loss of about 48% of its previous gains. 
Despite these losses, the coin remained on the Hot Pairs List, indicating its popularity among investors. The project's concept of a battle between dog-themed and frog-themed coins has attracted a lot of attention and is loved by many.
The market capitalization of SHEPE currently stands at $2.66 million, with a 24-hour trading volume of $2.57 million. The project has already attracted around 1.91 thousand holders within just 3 days of its launch. 
On DEXTools, SHEPE has scored 90 out of 99 for reliability, with 99% community trust based on 1019 votes. While SHEPE is gaining impressive traction in the market, there is another coin that is attracting significant attention in the memecoin market.
The Alternative Coin Worth Considering
Wall Street Memes (WSM) is a new cryptocurrency token that has gained significant attention in the crypto world. The project has successfully raised over $25 million in just three months during its presale phase. 
One of the reasons for its popularity is its ability to attract large investments, such as the recent investment of 500 ETH, worth over $1 million, from a single investor.
WSM's success can also be attributed to its smart marketing strategies, including collaborating with influencers. Additionally, the project is advertising on various platforms such as DEXScreener, DEXTools, CoinGecko, and Cointelegraph, which is helping to increase its exposure and attract more investors.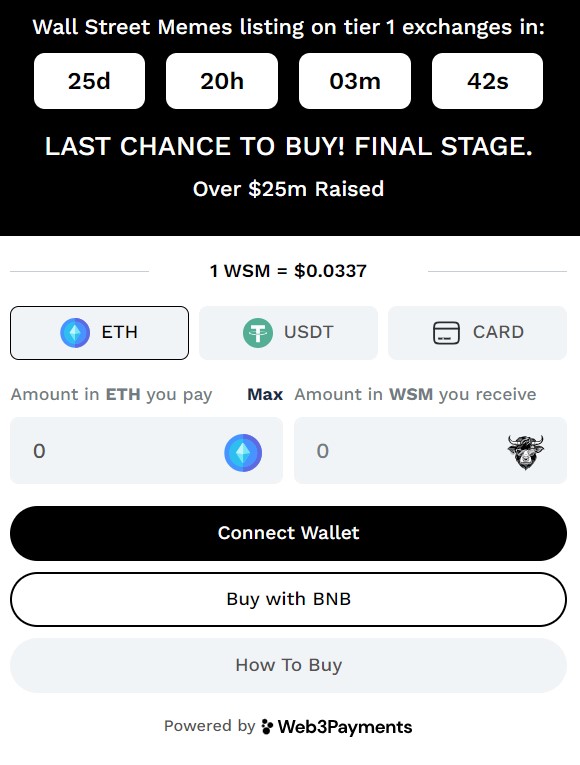 The response to the Wall Street Memes presale was overwhelmingly positive, with the first day witnessing a collection exceeding $300,000, eventually amassing a total of $25 million.
Currently, the WSM tokens in this presale phase are available for acquisition at $0.0337.
Seizing this opportunity could pave the way for potential growth. Dive into the Wall Street Memes investment journey and experience a potentially lucrative venture.
Buy $WSM Here
Find The Best Price to Buy/Sell Cryptocurrency

Disclaimer: Crypto is a high-risk asset class. This article is provided for informational purposes and does not constitute investment advice. You could lose all of your capital.